Beautiful Kitchen Compilation By Northwest Interior Designers
Are you a homeowner vexing over the interior design of your kitchen and at the same time don't wish to break the bank? In this article, rest assured that Northwest Interior got you covered with plenty of inspirations and great renovation deals!
RSVP Now to secure your free slot: http://www.northwestinterior.com/bigsale
The kitchen, the center of the family's day to day living. Apart from whipping up home-cooked meals for your loved ones. It is also a place for you to make your morning cuppa, store your guilty pleasure snacks and of course, to hold great conversations.
Well, kitchen interior design is a little different in Singapore. We do not enjoy the luxury of having ample space so, the idea of having a long dining table like those you see in Western series is sadly, impractical. Very often, we merge the laundry area to the kitchen as well. Not forgetting very recently, BTO kitchens will be all open-concept.
Here is a compilation of beautiful kitchens proudly done by yours truly Northwest Interior designers.
1. Classic Monochrome
Are you a huge fan of the timeless and elegant monochrome? Many homeowners are in love with the glossy finish black and white cabinets. The inherent reflective elements expand space visually and give a stylish vibe almost effortlessly.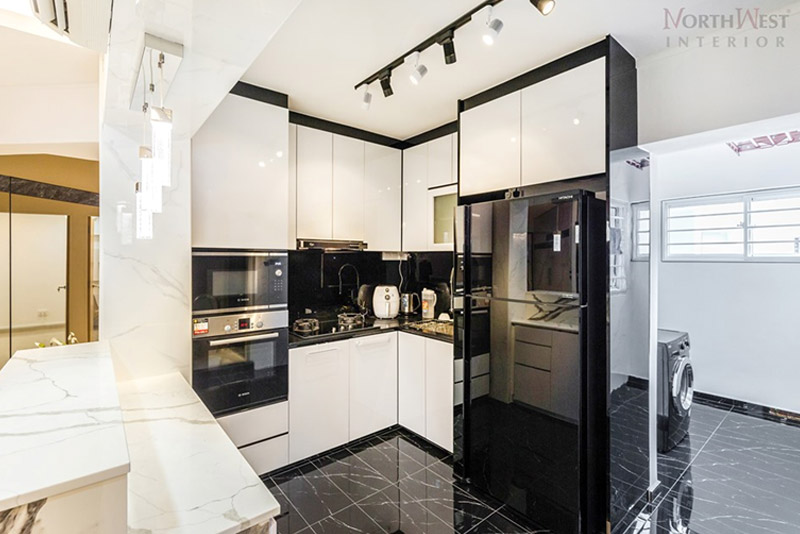 Getting a headache over space constraint issues? Not to worry, careful space planning with accordance to your needs will ultimately shape the most efficient layout.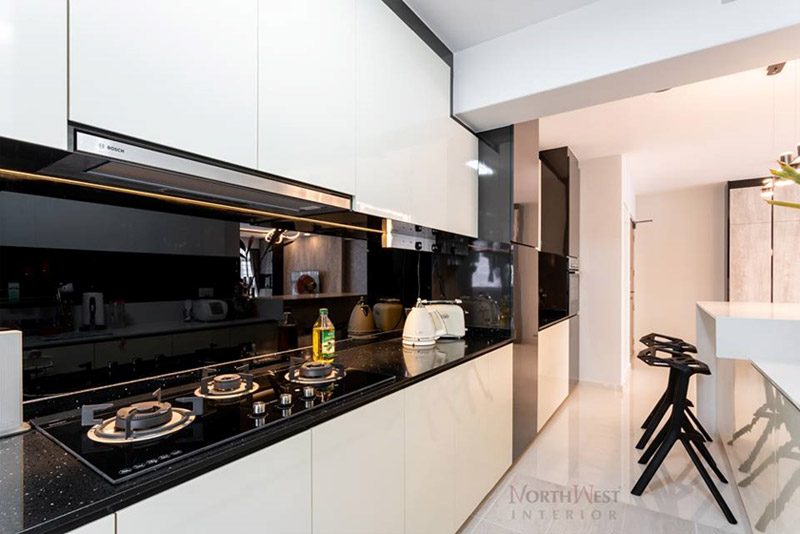 Secretly a master chef, who loves collecting cooking wares and stocking up food? Well, there are plenty of storage spaces here waiting for you to fill them with tons of goodies.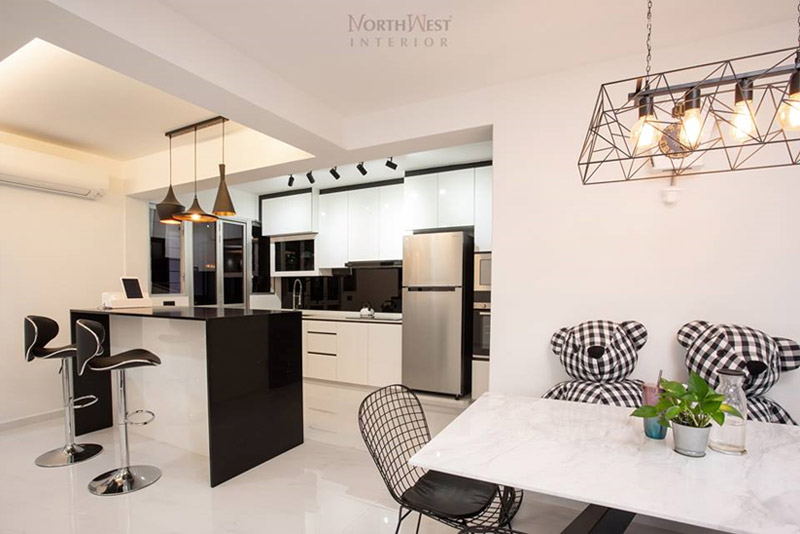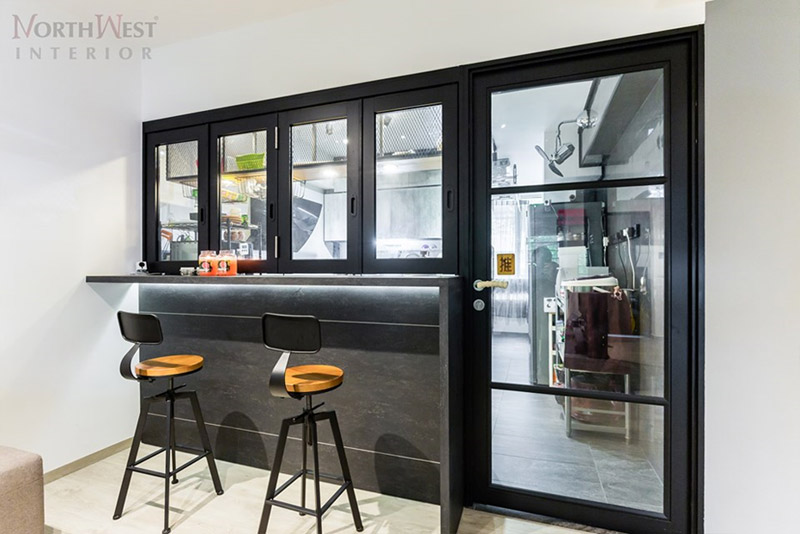 We simply love the bar top counters. Start your day by eating breakfast and end your day with a glass of wine at this ultra chill space.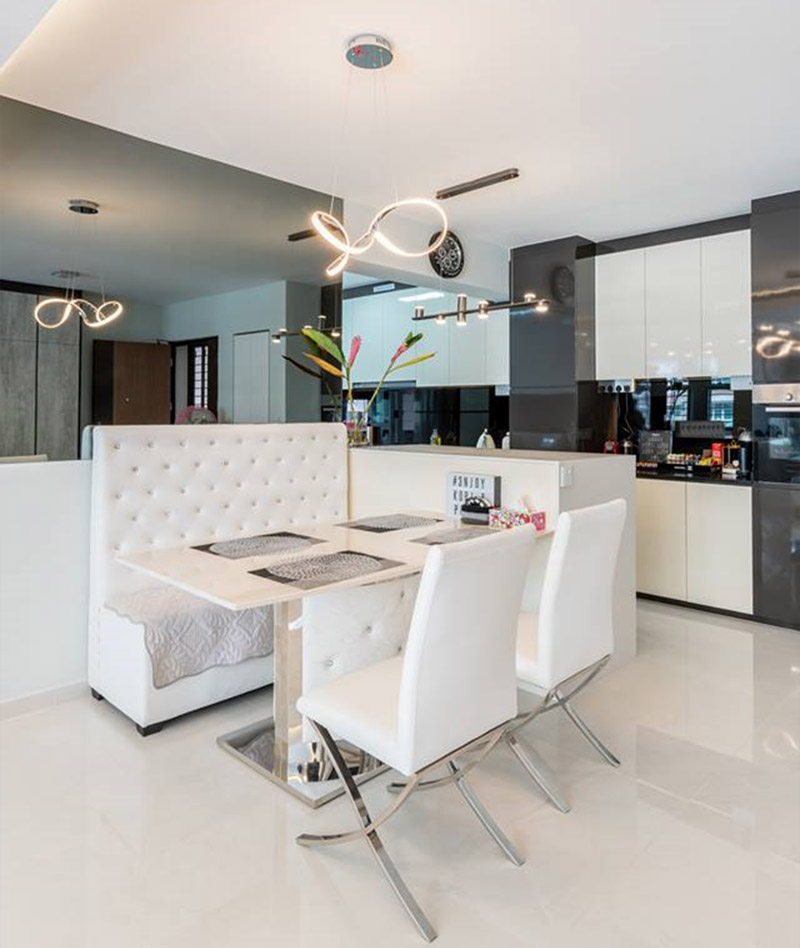 The dining table furnishings here is simply alluring. Don't limit yourself with the usual dining table you found in catalogues! Doesn't this resemble what a café or restaurant would have?
2. Ageless Wood Tones
Just how therapeutic can wood tones be? Over the years, wood tones have been largely used in design. Be it fashion items, furniture or interior design. Wood tones is definitely the go to.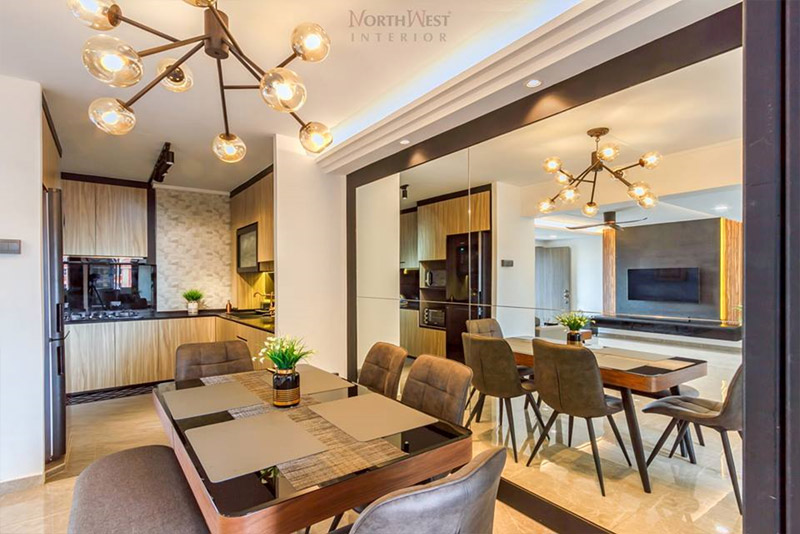 Subtly grand is probably the best words to describe the above kitchen plus dining area. The huge mirror holds the magic in magnifying the space. Special credits to the lightings which made the interior so cozy and warm.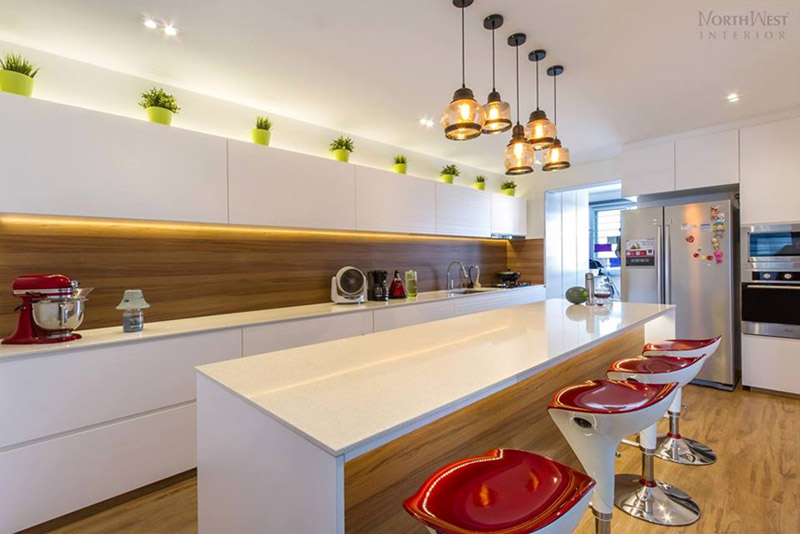 The long island table top which plays the role of being bar top counter too is beyond imagination. Cooking is going to be such a joy here.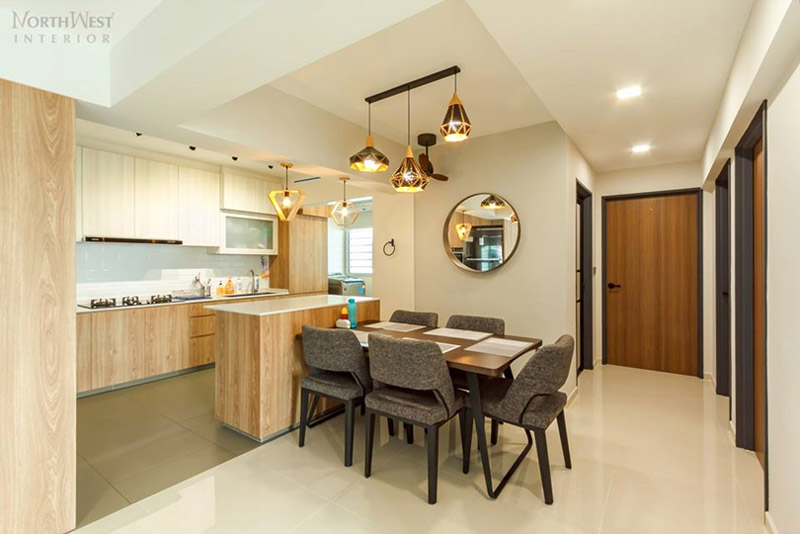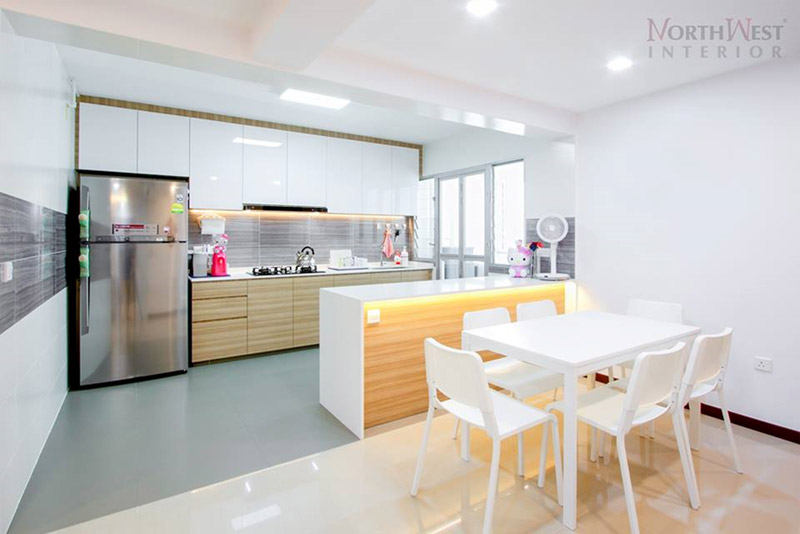 Open-concept kitchen often combines the dining area as well. Cook, eat and wash within the same area minimize hassles.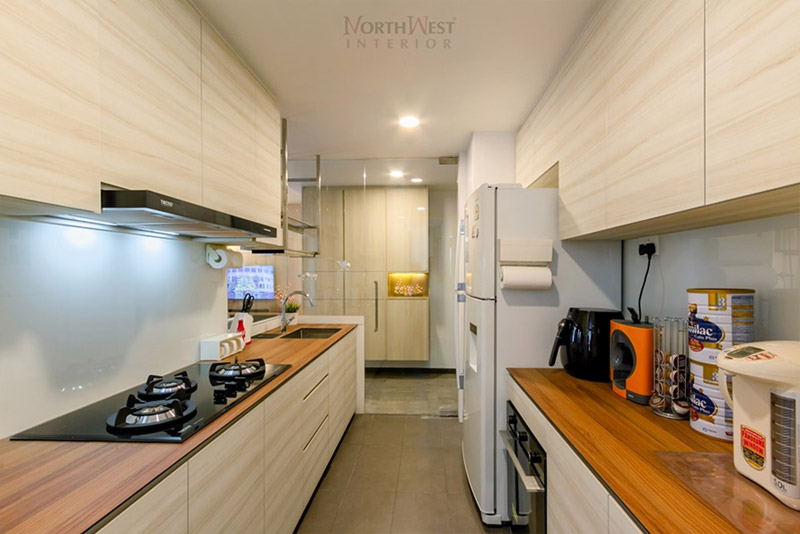 Opt for glass door if you wish to magnify space visually.
3. Gray-scale or Darker Tones
Contrary to the popular bright and airy option, darker tones are unconventionally chic and stylish.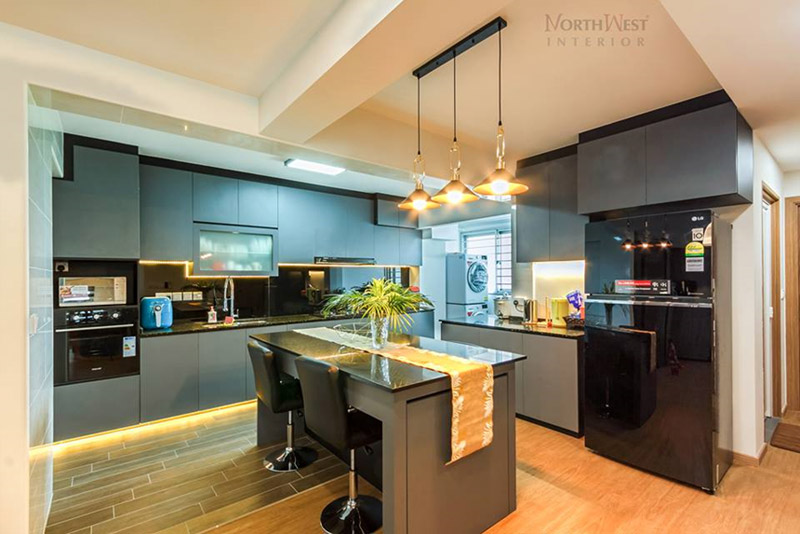 Enjoy your laid-back cooking session in this chill setting.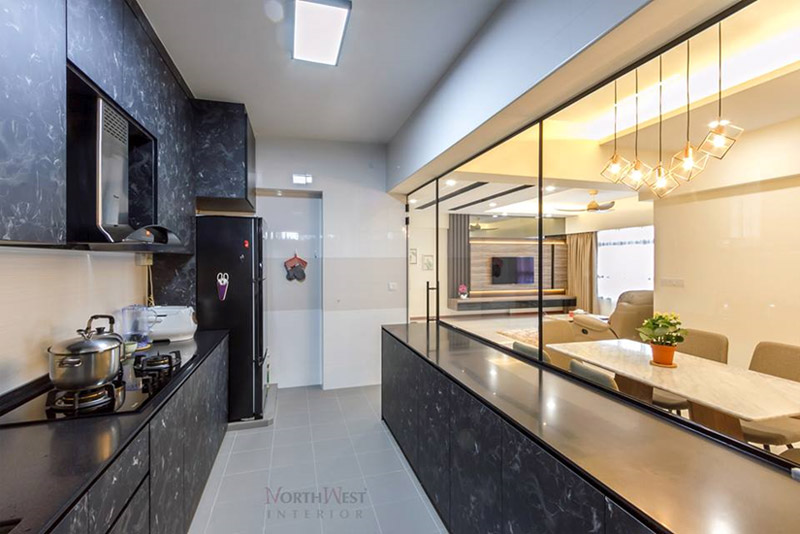 Add a touch of masculinity through the dark-coloured cabinets.
4. Bold & Creative
Don't restrict yourself to the usual colours, instill your favourite colours or prints in your very own space.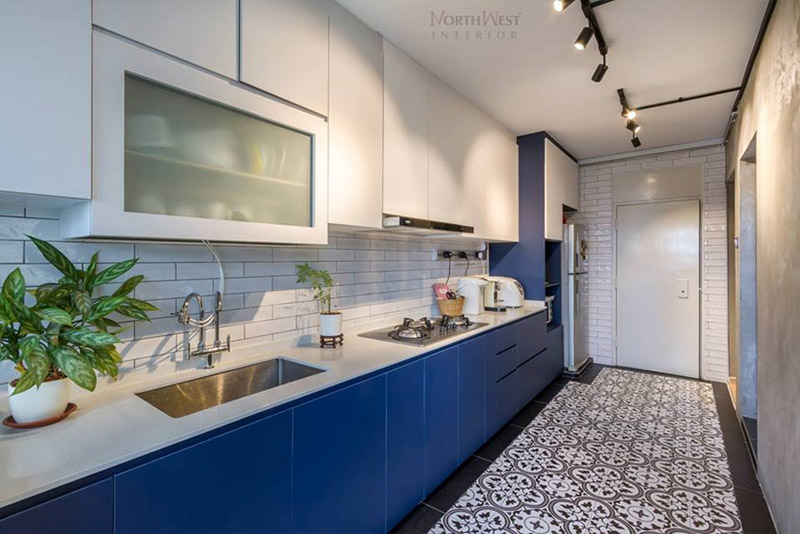 Prints is a great option to enhance the overall interior.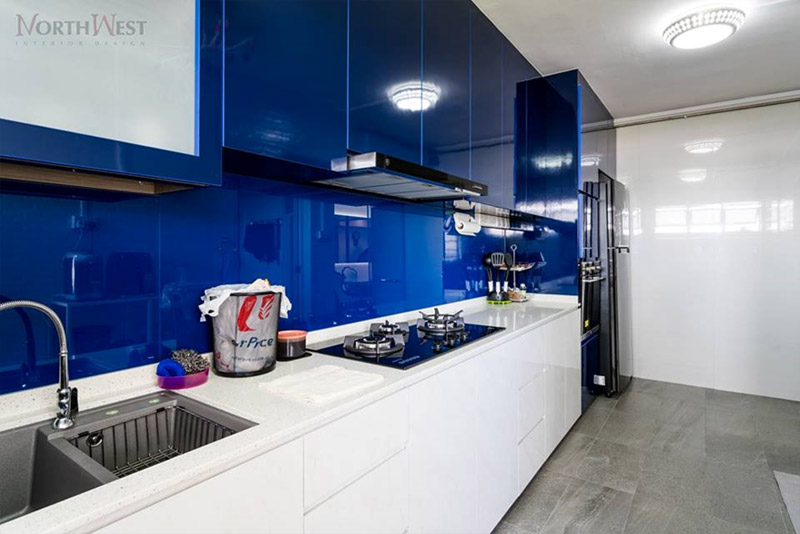 Electric blue cabinet is something is really unconventional but hey, if you like it, why not?
5. Bright & Airy
Make cooking session extra therapeutic and enjoyable in bright and airy space.
Full white kitchen shouts dreamy and classy. The island top in the middle which merges with the dining table elongates space instantly. Also, it houses more people and more fun!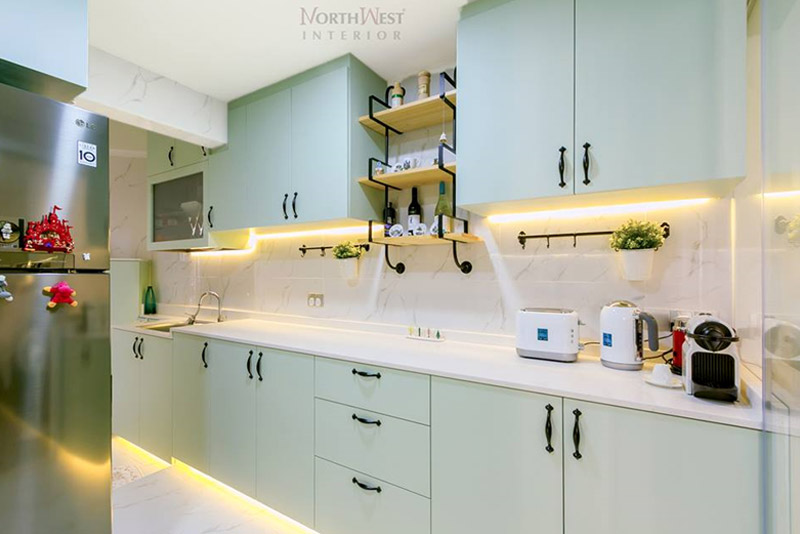 Instead of having cabinets, it might be good to choose to display certain items on racks as well.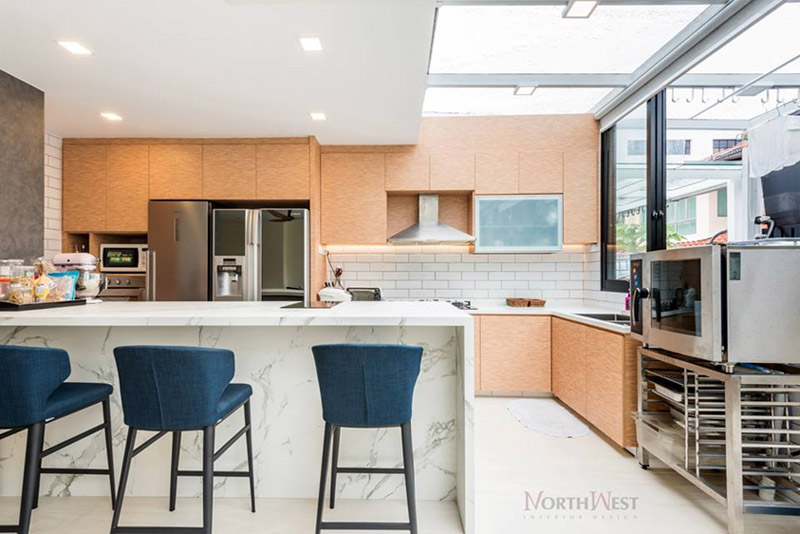 Yes, natural lights are the best sort of lighting.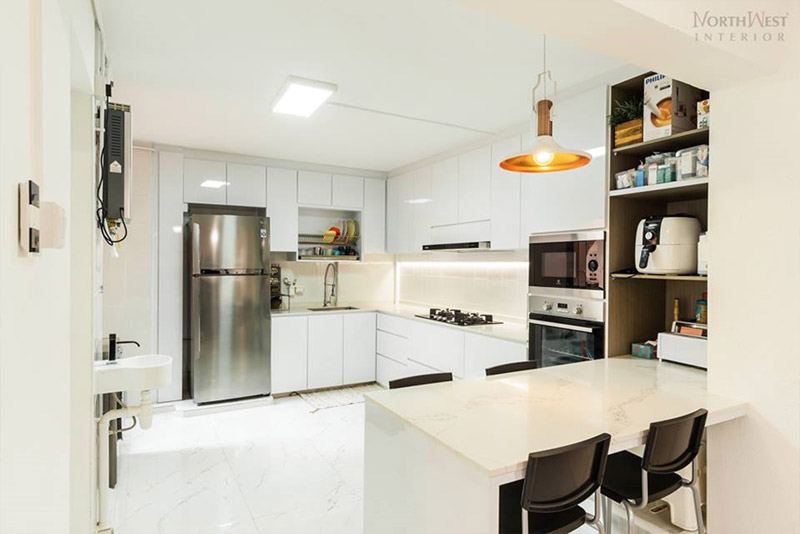 Add a touch of wood tones to your full white interior for layering purposes.
Feeling inspired and having tons of design ideas with your kitchen? Great news! Northwest Interior is having our Anniversary Sale. Get 3 Days Lowest Price Guaranteed Deal with lots of free gifts, prizes and free quotations.
Speak to our friendly and experienced designers on 5,6, 7 July 2019, 10am-10pm at 3 showrooms island wide.
RSVP Now to secure your free slot: http://www.northwestinterior.com/bigsale
Hurry, seal the deal with us today!
Showrooms
18 Boon Lay Way #01-93/94
Tradehub 21
Singapore 609966
Tel: 6779 5115
7 Gambas Crescent
#01-17 Ark@Gambas
Singapore 757087
Tel: 6554 5115
246 Macpherson Road
#01-01 Betime Building
Singapore 348578
Tel: 6744 5115
RSVP Now to secure your free slot: http://www.northwestinterior.com/bigsale